Veneers Turkey: Costs, Procedures, Packages, Deals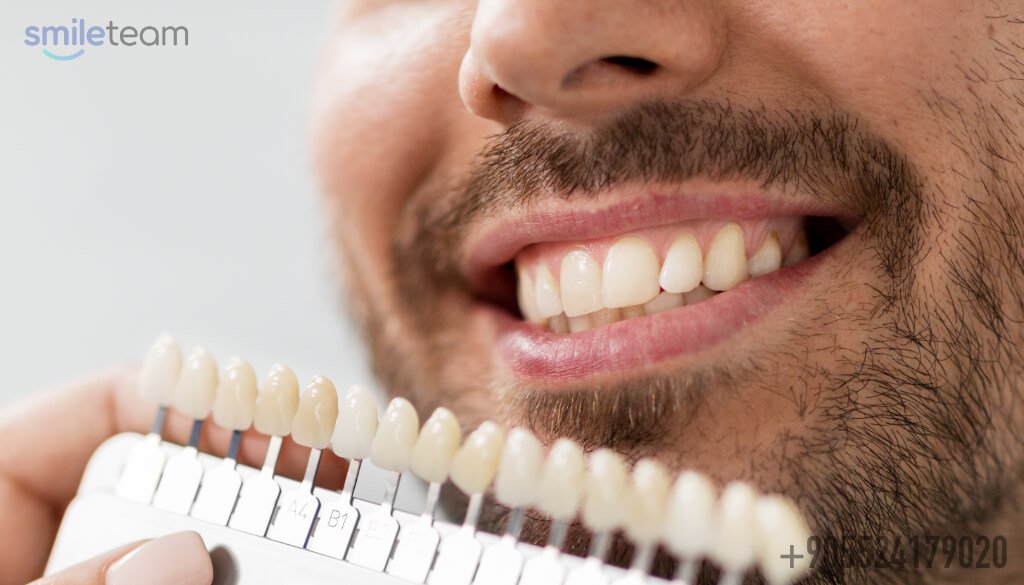 What is a Veneer? 
According to Wikipedia, a veneer, particularly when considering advanced dental practices in Turkey, is a material placed over a tooth to enhance the aesthetics of a smile and protect the tooth's surface from damage. A full set of veneers in Turkey is a comprehensive restoration that covers all the tooth surfaces. Similarly, a laminate veneer in Turkey refers to a thin layer covering only the tooth's visible surface, offering a blend of aesthetic improvement and protection. To sum up;
Laminate veneer; a thin porcelain layer covering only the front part of your tooth.
Full veneer or dental crown; a porcelain "crown" covering all tooth surfaces.
Usually, when people refer to veneers, they mean laminate veneers. But we will cover both types of veneers in this article, comparing advantages, costs, and risks.
Dental veneers are a popular choice for achieving a brighter smile, with their cost depending on the individual's smile line – the number of visible teeth when smiling. While a precise cost estimate requires specific details, patients can easily initiate the process by sending high-quality photographs of their smile from various angles, including the closed bite's upper and lower jaws and side views. X-rays, if available, can further assist in providing a more accurate estimate for veneer treatment in Turkey.
Cost of Veneers in Turkey
The first thing you wonder when you open this page is how much veneers are in Turkey. We know you are. For a detailed list of prices, please check our page with the dental treatment prices. For example, we will show below how much a full set of veneers cost in Turkey.
How Much Is A Full Set Of Veneers Cost In Turkey?
The full set of veneers consists of around 20 units.
Zirconium Full Veneers price: £160 or €190, or $215.
Full set zirconia crowns will be roughly £3200 or €3500, or $4300 before any discounts.
Laminate Veneers price: £215 or €255, or $290 per tooth.
How do I get a special quote by sending a photo?
To assess the suitability for veneers in Turkey, taking high-quality pictures of your smile from at least five different angles is important. This helps determine how many teeth are visible and the extent of veneer application needed. For a comprehensive evaluation, send pictures of your open-mouth upper jaw, open-mouth lower jaw, and closed bite from the left and right sides (closed, individually). Additionally, sending X-rays of your smile would be highly beneficial for a more detailed analysis pertinent to veneers in Turkey
Why are Dental Veneers Cheaper in Turkey?
Dental veneers are more affordable in Turkey due to various factors. These factors are:
Living costs and operating expenses are lower in Turkey,
The country's competitive dental tourism market,
Government support for health tourism, including tax deductions for medical facilities.
Why You Should Get Dental Veneers in Turkey?
Affordable Costs
Turkey's dental veneer treatments are priced competitively, making high-quality dental care accessible to a broader audience. Compared to other countries, the cost-effectiveness of these procedures in Turkey is a significant advantage for international patients seeking affordable yet quality dental solutions.
Qualified Dentists
The success of dental veneers largely depends on the dentist's skill. Turkey boasts a plethora of highly qualified dental professionals, many of whom have trained internationally. These skilled dentists use the latest techniques and technologies to ensure the best outcomes for their patients.
No Language Barrier Between Patient and Doctors
Dental clinics specializing in veneers in Turkey serve international patients and employ multilingual staff. This practice is crucial to ensure effective communication, an important element of any medical treatment, especially for those wanting veneers in Turkey. In more than one language, "The ability to speak minimizes the language barrier, making patients more comfortable and making informed decisions about veneer treatments in Turkey.
What Types of Dental Veneers Can You Get in Turkey?
There are multiple options where you can receive dental veneers in Turkey.
Porcelain Veneers
Porcelain veneers in Turkey are a popular choice for those seeking a durable and natural-looking solution. Made from high-quality porcelain, these veneers are known for their strength and ability to mimic the appearance of natural teeth, offering a long-lasting and aesthetically pleasing result.
Laminate Veneers
Laminate veneers, thinner than traditional porcelain veneers, require minimal tooth alteration. They are an excellent option for patients looking for a less invasive procedure. Despite their thinness, they significantly improve the appearance of teeth, making them a favored choice.
Emax Veneers
Emax veneers are made from lithium disilicate ceramic, known for its exceptional strength and aesthetic qualities. They are highly resistant to chipping and cracking, making them a durable choice for veneers. Emax veneers' translucency closely resembles that of natural teeth, providing a very realistic and attractive appearance.