Laminate Veneers in Turkey
Who doesn't want a smile which brings confidence and happiness!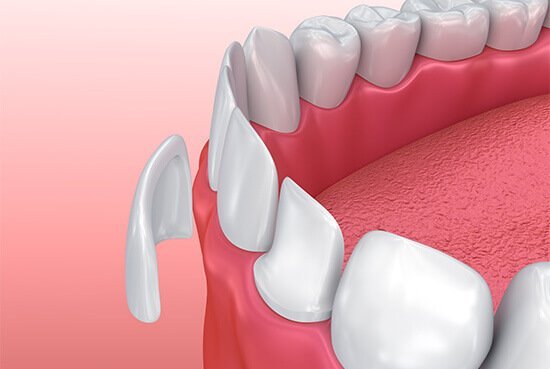 Veneers are the most popular dental treatment these days and are one of the affordable aesthetic solutions for your teeth. If whitening is no more an option for you and you don't want to lose your teeth, Veneer is the instant solution for your yellow, cracked, and misshaped teeth.
We can provide you that perfect Hollywood Smile in just 5 days and our professional and devoted dentist takes care of your teeth to make to look aesthetic. 
We know that you don't want that fake-looking smile and that is why we use premium brands for the perfect finishing. If you are looking for the best quality but affordable dental veneers then Veneers in Turkey is what you want. Smile Team Turkey welcomes you for the warmest and best dental holiday in Turkey. You will get the highest-quality veneers with up to 70% savings.
A Veneer is an artificial, thin and translucent and lifelike coverage to the front side or visible side of your teeth and it looks almost like artificial nails on your original nails. For Veneer dental treatment, we will prepare a thin layer with the finest material and will sculpt it on the front side of your teeth.
A Veneer is widely used for aesthetic results and is not recommended for the improvement of the functionality of the teeth. But if you are dreaming of that Hollywood Smile then Veneer Lamination can help you achieve that. And if you believe permanent and long-lasting solutions are the ones you want then Veneer is the best and affordable solution for your yellow and stained teeth.
Veneer has no metal in the material and hence provides that perfect natural and pleasing smile. We use high-grade Porcelain material to provide you strong and long-lasting Laminate Veneers that are resistant to cavity and cracks.
To get a quote and more information about veneers please get in touch by filling a form or our WhatsApp number +905524179020. 
Which Brands Do You Use?
We use premium dental brands for veneers in Turkey and ensure you the best results. We use the most popular E-Max brand to prepare your veneer structure. E-Max Veneer will provide you the perfect natural smile as it gives translucent and bright properties to the structure we prepare. Brands and quality are the number one priority with us. Everything we use is to European standards and are proven and registered trademarks worldwide such as e.max, Ivoclar Vivadent.
Advantages of Laminate Veneers in Turkey?
There are many advantages to choosing Dental Veneers in Turkey:
People are quite confused between Crowns and Veneers and also with some other dental treatments which provide the same solutions as Veneer. But this does not mean that you can choose any of them. It is important to find the right solution for your dental health issue as it is going to help you in the long run.
Veneer will recover the appearance of the teeth and if you have problems like tooth pain and decay then we would recommend you check our Dental Crowns and Dental implants pages. Both dental veneer and dental crown help to cover the stains of your teeth. But still, they are different as the dental crowns will cover the whole tooth and not only give it new look but take care of the functionality of the tooth. On the other hand, Veneers are for those who are seeking for the aesthetic smile!
Veneers and laminate veneers in Turkey are the best alternative for braces and dentures as we cost you three times lesser than the dental center in your city.
Different Laminate Veneers;
We offers 5 different high quality Dental Veneer our clinic:
CEREC® Laminate Veneers
E-max Laminate Veneers
Empress Laminate Veneers
Vita Suprinity Laminate Veneers
Dental Lumineers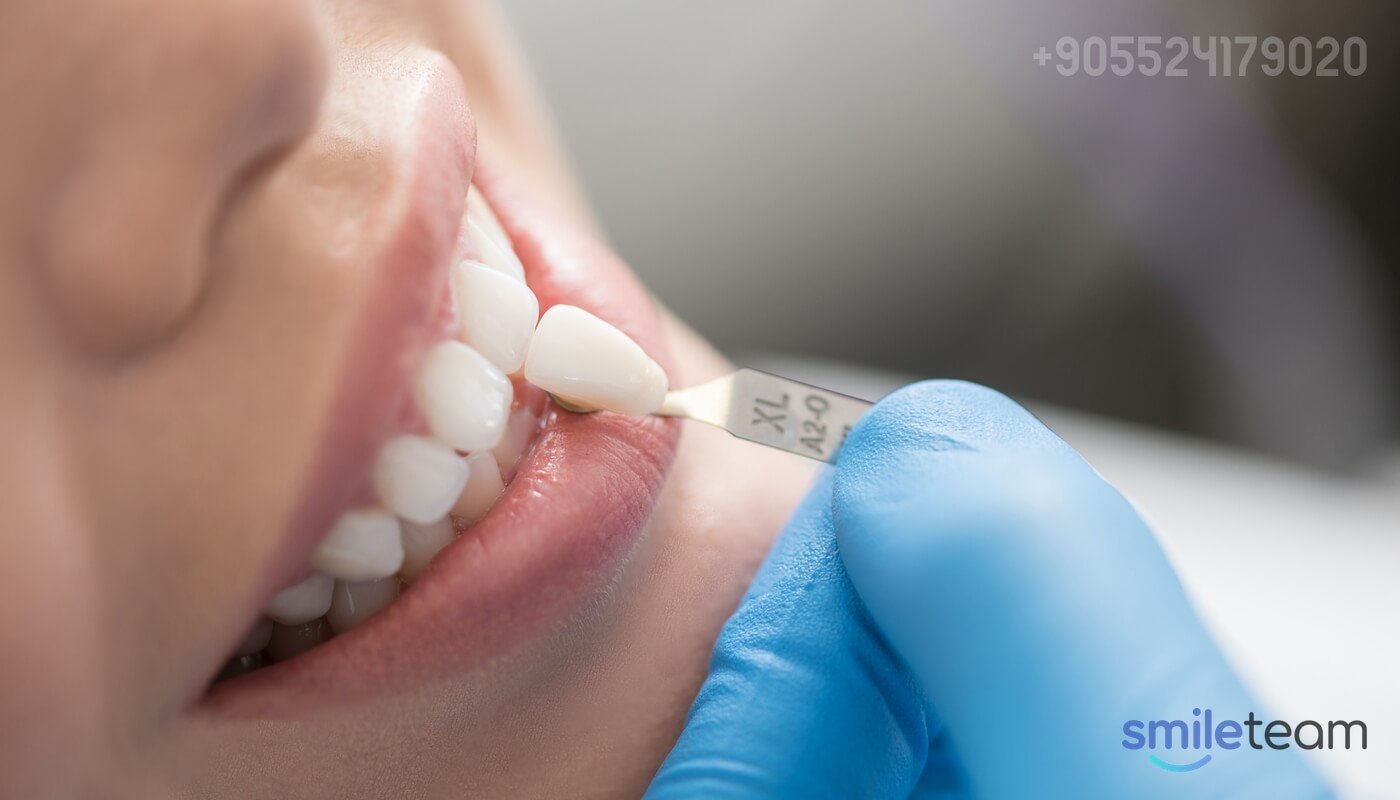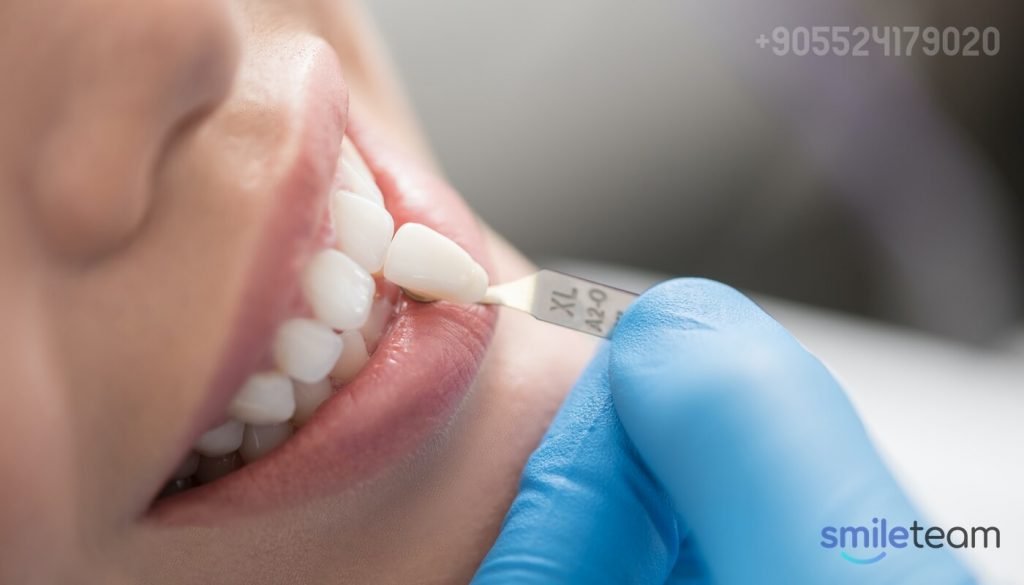 Differences between Lumineers and Veneers - A Detailed Guide
Want to flaunt a perfect smile always? It's time to correct your dental flaws and regain your confidence. When it comes to dental treatments Dental Veneers and Lumineers are the most trending treatments that help to improve your smile. Many of us get confused between these two dental cosmetic treatments but cover you all.
Here, we will discuss the difference between Veneers and Lumineers.
What are Dental Veneers?
Veneers are a tiny prosthetic device that uses thin material and gives you a natural-looking smile. To procedure requires removing some enamel from the tooth and then the veneers are fitted into the tooth. The resin cement used in the procedure can easily be modified as per the color, shape, and size of the teeth.
What are Lumineers?
These are the ultra-thin prosthetic devices that can simply be placed over the teeth to restore your smile. There is no preparation required for the treatment, so there is very little risk of any damage to the tooth.
Main Differences between Veneers and Lumineers:
Application
Well, one of the major differences between these two is their application. Thin material is used in the process and the dentist will remove some enamel and then fix the veneers. Lumineers on the other hand comes with ultra-thin material that is quite durable. You can get the treatment in just 2 sittings as the lumineers can be placed directly over the teeth and gives you a radiant smile in minutes.
Material
Porcelain veneers are fabricated first and then bonded to the teeth with the resin cement. Lumineer involves a less-invasive procedure and is made from Cerinate porcelain. So, there is no need for giving numbing shots and doing tooth reduction in the process.
Pros and Cons of Veneers:-
Pros-
Natural-looking and brighter appearance.
Veneer material can easily be tolerated by the gum tissues.
Lasts longer.
Recommended mostly for hiding discoloration and tooth decay.
Cons-
It's a permanent and non-reversible process.
More expensive.
Pros and Cons of Lumineers:-
Pros-
No prep work required.
No damage to teeth or any nerve.
Less expensive.
It helps to make a strong bond to the enamel for longevity.
Cons-
Not durable.
Not useful for crowded or crooked teeth.
Lumineers or Porcelain Veneers - Which One to Choose?
Well, both dental treatments have advantages and disadvantages. This applies to dental solutions for veneers in Turkey as well. So, it is best to decide on your dental condition. Not just that, it also depends on your budget and time. You can schedule your online appointment with a dentist and get yourself accessed. They will guide you with a better solution right away.
So, whether you want to get Dental Veneers or planning to get Lumineers, you can talk to us. To learn more about both the treatments you can speak with your dentists and solve your queries. We will help you bridge the gap between your dental issues and confidence by providing you with a flawless smile. Brush off your dental anxieties and say hello to professional treatments.
First get in touch with us and send us some photos of your teeth, or preferably X-ray. We need to understand your expectations and for that, we need to examine the present condition of your teeth. Once you are ready to choose the type of Veneer you want in Antalya, Turkey We will prepare the perfect structure in 2-3 days by using the finest material available in Dental World. And will fix the new veneers on your teeth for that aesthetic look. It is the instant solution for the color correction and you can get a beautiful pearly smile at absolutely less price and no pain!
Voila, we are done! Veneer treatments are the most simple and instant dental solutions available. Our expert dentists are dedicated to providing you the best results and with Smile Team Turkey; you will get the best experience of the dental holiday to Turkey.
A veneer is a thin porcelain layer of protection applied to the front of the teeth to improve aesthetics. There are three types of Dental veneers.
Porcelain Dental Laminate Veneers: After the tooth preparation and impression, the veneers are prepared and fitted in a day (24 hours).
Direct Composite Veneers: Composite binding can be done in two hours. Numerous layers in various colors of the composite are applied on the teeth and cured with a light.
Indirect Composite Veneers: The impression of the teeth is taken to create fake teeth. The composite layers are applied to it and then transferred to the patient's mouth using adhesive.


Solutions for veneers in Turkey based clinics offer all the varieties above.
Advantages:
There are many advantages to choosing Veneers–
Single-day treatment in most cases
Perfect results
Minimum tooth preparation required
No tooth tissue removal, hence it can be reversed (the veneer can be removed)
No allergic properties
Disadvantages:
The disadvantages of dental veneers are-
Comes off easily when compared to crowns
Expensive
Suitable only for the front and side teeth (doesn't work for back teeth)
Easily breakable when placed on molars.
People usually ask us the same question every time, Why Dental treatments are cheaper in Turkey? The simple answer to this question is – cost of living and labor is very low and that is why we are able to provide you the same service at lesser prices.
Some people have prepossession that low prices mean low quality. We never compromise with the quality of our services and therefore, use the high-grade material, top brand technologies and FDA approved material and manufacturers that are used in the UK and Europe. The costs of premium laminate veneers in Turkey are for instance, extremely affordable compared to those in the UK.
Metal Porcelain Crown

£119

Removal of Old Crowns

free
Metal Porcelain Crown

€135

Removal of Old Crowns

free
Metal Porcelain Crown

$149

Removal of Old Crowns

free
We understand that dental treatments need big investments and we make sure that the aesthetic results of the dental treatments are going to amaze you every time.
If you are ready for the Smile Makeover in Turkey and looking for more guidance and details of options available for the best aesthetic results. Call us for quick guidance now!