What IS THE DIFFERENCE BETWEEN E-MAX CROWNS AND ZIRCONIUM CROWNS?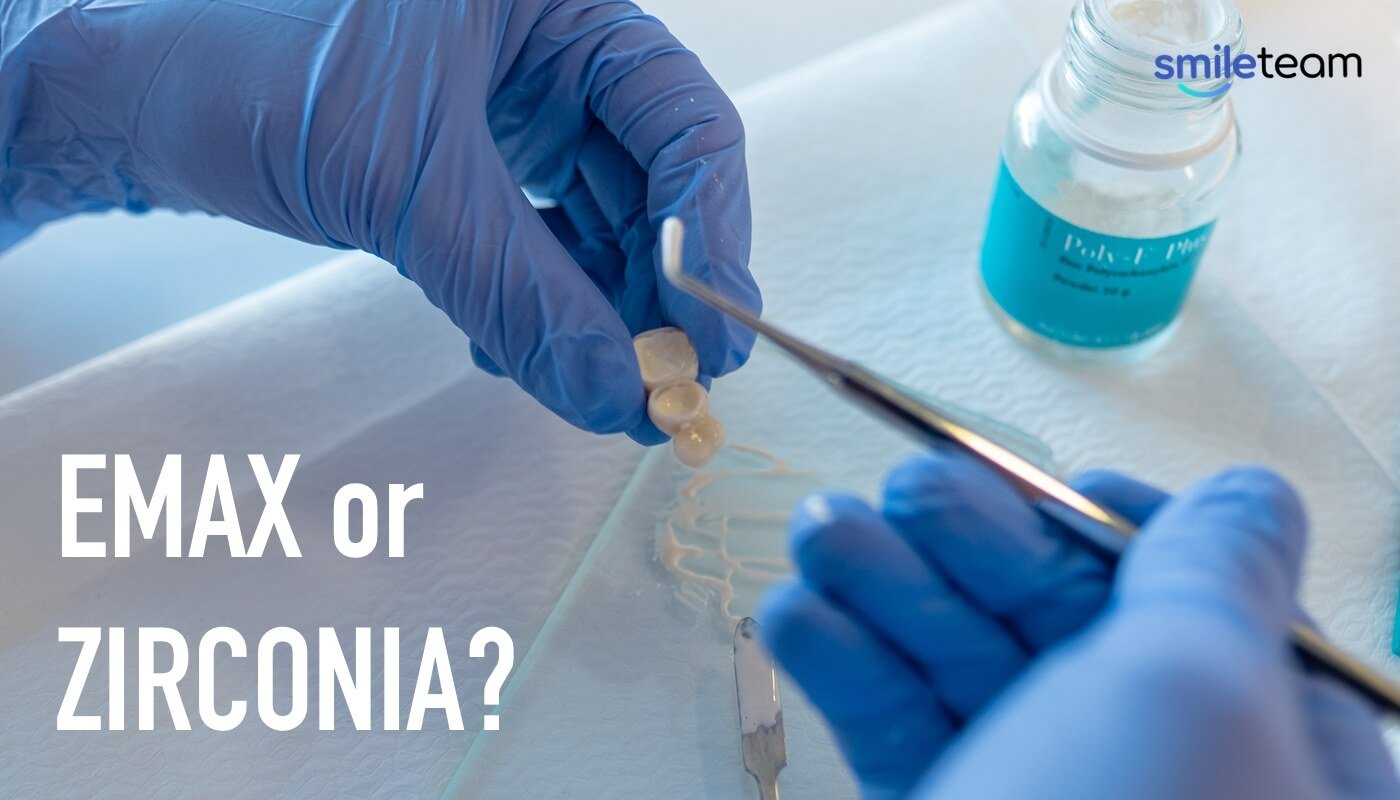 Emax Crowns vs Zirconium Crowns – Do you have broken and worn-down teeth? If yes, then dental crowns are an ideal dental treatment to restore your teeth. Emax Crowns vs Zirconium Crowns is the comparison to make when it comes to choosing between the two popular types of dental crowns. Both have their benefits, but if you are confused about making a selection, we can help. Here we will guide with a few differences between E-max crowns and Zirconium crowns.
E-max Crowns
These crowns are made of lithium disilicate which is one of the popular materials for dental crowns. This form of ceramic is highly durable and tough, thus making is highly popular among the dentists. E-max crowns are made from a single block of lithium disilicate with zero metal in the crown. This makes the material translucent and natural look alike. Not just that E-max crowns are long-lasting and sturdy, making them a much better option than other dental crowns. E-max crowns may seem expensive to some, but getting E-max crowns in Turkey will be a quite reasonable option. So, if you are looking for a tooth restoration program that gives you natural-looking teeth, then you should opt for E-max crowns.
Zirconium Crowns
Well, Zirconium is a naturally-occurring crystal that is hard. The toughness of Zirconium makes it indestructible and this is the reason they last long in our body. The Zirconium crowns are made from the protein and zirconium materials which gives them a whitish and crystal-clear appearance. The best part of getting Zirconium crowns is you don?t get unsightly lines on teeth that you get with other dental crowns. Zirconium crowns are really expensive because of the durability and look they offer. But, if you get the Zirconium crowns in Turkey, then you are likely to save huge money.
Cost of Emax and Zirconium Crowns in Turkey
Overall, both these dental procedures are expensive, but getting it done from Turkey is a great option. So, you won?t find much difference in E-max crowns cost Turkey and Zirconium crowns cost Turkey, as the premium material is used in the treatment. Rest, it depends on the teeth condition of the patient.
Emax Crowns vs Zirconium Crowns – Which is Better?
Well, both E-max and Zirconia crowns are used to fix the damaged, missing, broken, and discolored teeth. Also, both dental procedures use quality material to restore the teeth and offer long-lasting properties. Yes, it? a hard choice to make!
If you want to make the best choice regarding Emax Crowns vs Zirconium Crowns, then schedule your dental appointment today!
You can read our previous post on https://smileteamturkey.com/blog/how-to-fix-gaps-between-teeth/