GETTING VENEERS IN TURKEY
You might find it a bit confusing to understand the difference between veneers and crowns. Sometimes people refer to dental crowns as veneers or even as dental implants. They all are different and play different roles in dental treatments. Actually, it's not much important how patients call it as they achieve desired look and feel 🙂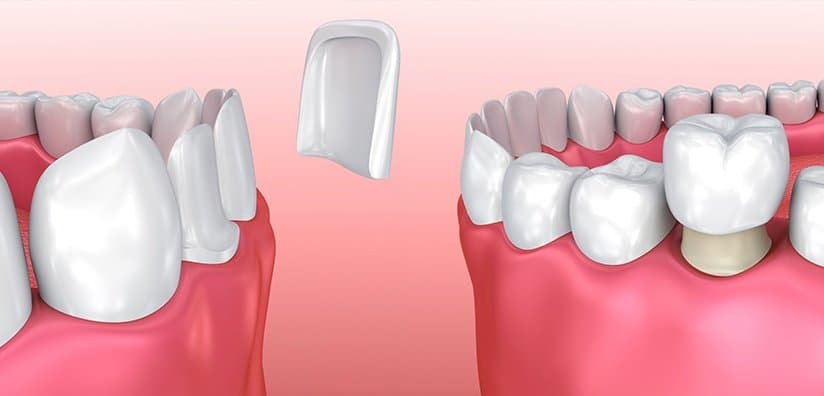 What is a veneer? (in few sentences)
According to Wikipedia, a veneer is a material placed over a tooth to improve the aesthetics of a smile and protect the tooth's surface from damage. A full veneer crown is described as a restoration that covers all the tooth surfaces. Laminate veneer, on the other hand, is a thin layer that covers only the visible surface of the tooth. To sum up;
Laminate veneer; a thin porcelain layer covering only the front part of your tooth. 
Full veneer or dental crown; a porcelain "crown" covering all surfaces of the tooth.
Usually, when people refer to veneers, they mean laminate veneers. But we will cover both types of veneers in this article comparing advantages, costs, and risks.
Should I go with Laminate Veneers or Full Veneers?
In many cases, you can decide which one you want, but it may not always be the best option for you. Some patients insist on having laminate veneers while their teeth are not suitable for this procedure. And some insist on shaving their healthy teeth to have a full set of crowns (full veneers) which we also do not recommend. Our dentists at Smile Team Clinic will suggest you the best option based on your oral condition.
👉 You should choose laminate veneer if you have a healthy tooth and you need an aesthetic improvement like restoring a chipped tooth, close a gap between teeth or change the colour of the tooth. 
A very thin amount of the tooth enamel is removed.

Suitable only for front or side teeth, both on the lower and upper jaw. 

They are not durable as full veneers (dental crowns).
👉 You should choose full veneer (a.k.a. dental crown) if your teeth are in weak condition and you need both functional and aesthetic improvement. In some cases, where the tooth is in very bad condition, the patient may require a dental implant before having a full veneer.
Suitable for any tooth, both on the lower and upper jaw.
More durable than laminate veneers and supports weak teeth.
Less expensive than laminate veneers with a longer lifetime.
Zirconia or Porcelain: What's the difference?
This choice is only available for full veneers (dental crowns). Laminate veneers are made of porcelain and we will keep them out of this topic for a while. 
If you previously heard about zirconia, you probably should know that it's a very durable material used for dental treatments. It's a popular choice for veneers in Turkey as well. Zirconia veneers have many advantages over metal-porcelain veneers and comes with one obvious disadvantage; price. 
Porcelain crowns have metal core and porcelain covered around it. It may have "shadows" near gum line due to color of the metal. While z

irconia crowns is made of zirconium core, which is white and have no shadows having the most natural appearance.

As we stated before, porcelain crowns are more budget-friendly than zirconia crowns.

Porcelain crowns last anywhere up to 10 years. Zirconia can last patient's lifetime

 with a proper dental care.

Zirconia crowns will not cause allergies in patients who have allergic reactions to metal-porcelain restorations.
Does it mean that zirconia crowns are always better than porcelain? No. In some cases dentists do not suggest zirconia crowns and they have their reasons 😁
What is a full set of veneers?
This is where people get confused a lot. You may see a different number of teeth included in a full set of veneers package on each clinics website. This number may be different for each person, based on their oral condition and visible teeth. For some patients, 20 crowns are enough, for some 28. If you plan to have laminate veneers, this number can be low as 8. Every person has a unique mouth and need a different treatment plan. Our dentist will examine your mouth and suggest you the most suitable plan. Remember, you can contact us to get a quote and consultation for free 😊
How much does it cost to have a full set of veneers in Turkey?
The price of having a full set of veneers in Turkey may vary depending on the circumstances like your oral health, type of veneers you want, number of the veneers you need, or the material of the veneers. We know that it sounds complicated, so we prepared some packages with the most popular treatments.
Cost of having a full set of veneers in Turkey

| Treatment | GBP | EUR | USD |
| --- | --- | --- | --- |
| Porcelain full set (20 teeth) | £2400 | €2830 | $3250 |
| Zirconia full set (20 teeth) | £3200 | €3770 | $4300 |
| Laminate full set (8 teeth) | £1720 | €2030 | $2320 |
You may see different prices on different websites for the same amount of teeth. Please pay attention if they have additional costs like temporary dentures or extractions. Many clinics have hidden costs. In our clinic, we do not charge for a temporary denture, x-ray, tomography and tooth extractions.
Moreover, your airport-hotel-clinic transfers and your hotel stay during the treatment is included for treatments over £2400/€2600/$3250. You will only need to buy your ticket 🙂 Check out our full set of dental packages to see detailed information about packages and discounted prices.
How good are veneers in Turkey?
That's the best part! Whether it's laminate veneers or full veneers, the result will be outstanding.  We are pretty confident with our work thanks to hundreds of our happy patients' reviews.  Take a look at before and after pictures of our patients.
A picture is worth a thousand words. But a happy patients' video review is worth a thousand pictures!
If you have any questions regarding treatments or any concerns, please contact us. We will be happy to answer your questions, make a video call from our clinic and show you around. 
For more pictures and fresh content please follow our Instagram and Facebook accounts.