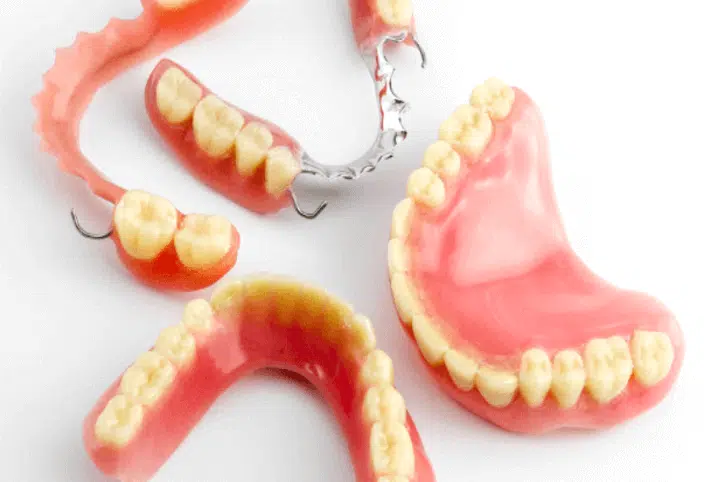 Dental problems like cavities and gum diseases can affect the function or appearance of the teeth if left untreated. As a result, you may face tooth loss. However, thanks to custom-fitted dentures, it is possible to treat the missing teeth. Nowadays, custom-made dentures are among the most preferred dental treatments.
As a preferred brand for dental treatments such as veneers, dentures, and dental implants in Turkey, Smile Team provides you with all the information you need to know about this treatment and why you should opt for them.
What Are Custom-Made Dentures?
A custom-made denture is an artificial and removable tooth that replaces the missing one. Dentures are prepared specifically for each person in a dental lab using impressions of their mouth to provide a comfortable fit. In addition, materials like acrylic and porcelain can be used to create artificial teeth. The material is chosen based on the needs and choices of the patient. They can be located in the lower and upper jaws, or both.
The Unrivaled Benefits of Custom-Fitted Dentures 
Poor oral care, infections, severe cavities, and factors like genetics, illnesses, and aging can lead to tooth extraction over time. Thus, many people start to live with missing tooth or even teeth. However, people no longer have to live with missing teeth as technology advances.
Thanks to custom-fitted dentures, people can get this dental problem treated and enjoy the numerous benefits. After losing a tooth, custom-made dentures are a great way to restore your smile and your mouth's full functionality. They not only provide you with perfect fit, comfort, but also make your appearance, speech, and eating capabilities better.
Perfect Fit and Superior Comfort
The major benefits of custom-designed dentures are perfect fit and superior comfort.
With a proper fit, dental problems like jawbone deterioration while eating or speaking are prevented. Thus, you will not feel any discomfort.
Aesthetically Pleasing Appearance
After missing teeth, many people start to worry about their appearance, and they may lose their confidence. If you want to avoid this problem or a good and natural smile, custom-made dentures can be your solution. They are specifically designed for each patient's teeth and mouth and offer a natural-looking smile. Besides, they match the shape, size, and color of the existing teeth. Thus, you will not have to worry about your appearance when you smile and can gain your confidence back.
Enhanced Speech and Eating Capabilities
When you replace the missing teeth with custom-made dentures, you start to chew better which helps you restore your eating capacity. For instance, you may have pronunciation problems or have difficulty chewing several foods due to missing teeth. After replacing the missing teeth with customized artificial teeth, you can get rid of these problems.
However, you may feel an unusual feeling when talking and eating at first, but as you get used to your custom-designed ones over time, you will notice the comfortable feeling of speech and eating capabilities.
Comparing Custom Made and Traditional Dentures 
Dentures are one of the most preferred dental treatments, and there are different types of them. Two of them are custom-tailored dentures and traditional ones. People who consider getting a denture can often experience confusion when they see different denture types.
Here is the comparison of custom-made dentures vs. traditional ones in terms of comfort, aesthetics, durability, and longevity. Also keep in mind that you should consult a dentist to find out which denture type is best for your dental condition.
Consider Comfort 
When you get your artificial teeth, the first factor you should consider is comfort. When dentures fit properly and are created with materials that are suitable for your teeth and mouth, you will not experience discomfort.
With tailored dentures that are specially made for you, you may feel more comfortable than with traditional artificial teeth. Since they can move as you eat or speak, they can cause difficulty eating or speaking and discomfort. Also, traditional ones can be quite uncomfortable if they are not properly fitted.
Compare Aesthetically 
Custom-made and traditional dentures are compared with each other in terms of aesthetic appearance. Generally, traditional ones have a reputation for looking unnatural or not aesthetic. However, both custom-made and traditional artificial teeth offer aesthetically pleasing appearances.
Durability and Longevity: Which Lasts Longer?
Another comparison between tailored and traditional dentures is durability and longevity. Both of them are expected to last 5 to 10 years. However, since custom-fitted ones are specially made for you, they are suitable for your mouth, teeth, and jaw structure. So it fits perfectly and does not slip, which can increase the quality and duration of use.
Keep in mind that when you do not take good care of them, both custom-made and traditional dentures wear out easily and cannot last long.
Why Choose Custom-Made Dentures?
Compared to other types of dentures, custom-made ones are better in terms of factors such as being custom-made for each person or better suited to the teeth and mouth structure. Besides, if you are complaining about dental problems such as missing teeth, you can choose customized artificial teeth to get rid of this problem.
To get tailored dentures, you are welcome to contact Smile Team. Dental treatments like artificial teeth and veneers in Turkey are very popular, and Smile Team offers the best dental treatment that is suitable for you at affordable prices. With our successful and experienced dentists, you can have a perfect smile, and healthy and strong teeth.
How to Care for Your Custom-Made Dentures 
Once you have your custom-made dentures, you need to pay attention to take good care of them. Without good dental care, tailored artificial teeth can easily chip or crack. If you want to make them more durable and reduce the risk of breaking, there are some measures for you to take.
First of all, you should practice good oral hygiene not only for your tailored artificial teeth but also for your overall dental health. You should brush and floss them at least two times a day, and rinse after eating to remove the food debris and plaque. In addition, you should schedule dental appointments for dental check-ups regularly. To make custom-made dentures fit and comfortable to wear, the dentist can make arrangements in terms of fitting.
You can reach our previous article from https://smileteamturkey.com/blog/dental-plaque-causes-prevention-and-treatments/