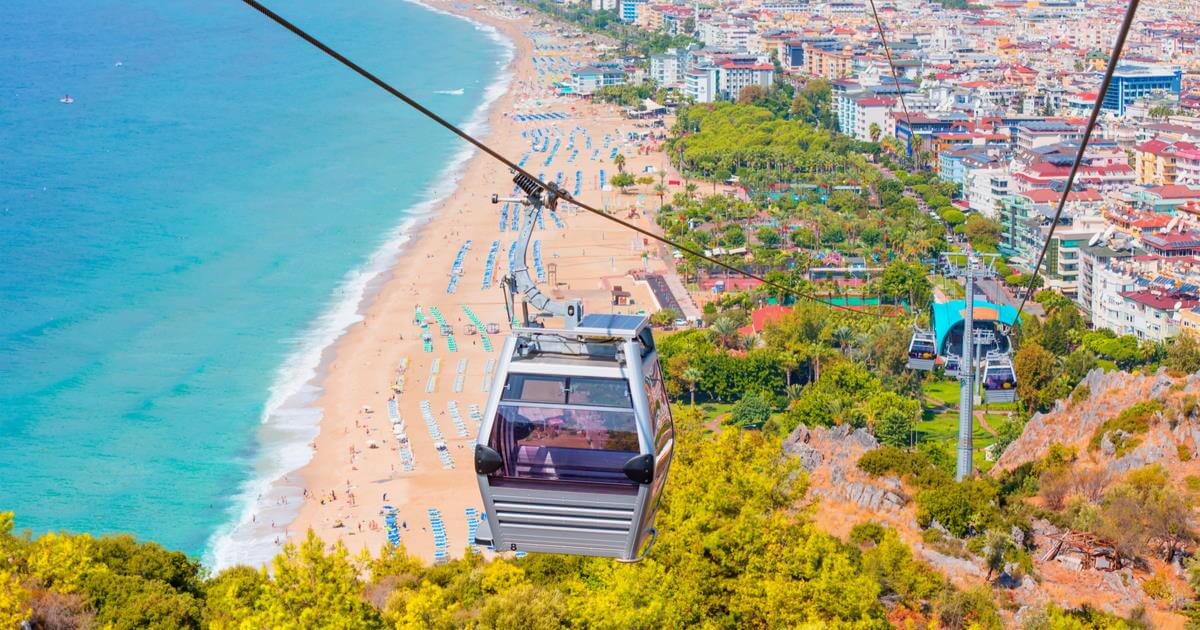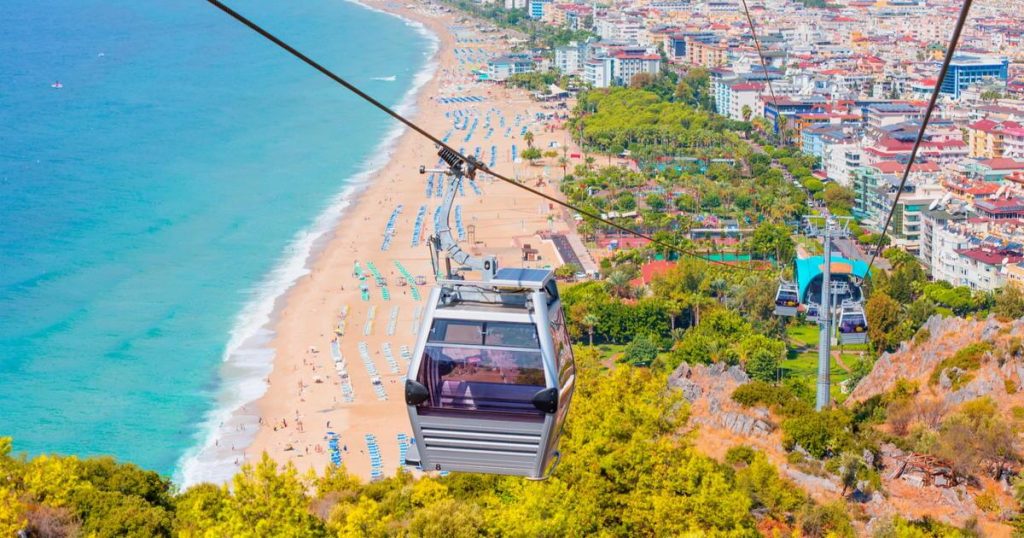 When you hear the name Antalya, you probably think of the beautiful coastal city of Turkey. Antalya is the jewel of Turkey's sparkling Mediterranean coast, with cypress-covered cliffs, descending into sapphire-toned waves and ancient history. Antalya is Turkey's most popular beach resort and a great example of ancient civilizations' marks and beauties of nature. Whichever type of holiday you prefer, whether it is relaxing on the beach, exploring historic sites, or visiting beautiful waterfalls. Antalya has it all. In this article, we will inform you about the places to visit in Antalya to fulfill your vocational dreams.
1. Konyaalti Beach
The very first place to visit in Antalya is, of course, the Konyaalti beach. Who wouldn't want to be laying on the sands, relaxing while listening to the calming music of the waves? Even imagining this beautiful experience is relaxing yet also exciting. Konyaalti beach captures the hearts of both the residents and tourists by its beautiful sapphire-toned sea and pearly sands. Even by only that, it is one of the best places to visit in Antalya.
Konyaalti Beach is located east of Antalya's town center. It is one of Antalya's two finest stretches of sand, with a stunning landscape of mountains spreading down to the beach. During the summer, residents and tourists rush to Konyaalti beach, where relaxing beach days are made comfortable with plenty of services. There are sun loungers with umbrellas for rent, adequate bathroom and shower facilities. Also, a palm-lined boulevard behind the beach with stores, cafés, and restaurants you can go to when you get hungry.
2. Lara Beach
The next one on the list of places to visit in Antalya is also a beach. But Lara beach is especially the best for families. Having fun by yourself is good, but having fun as a family is perfect. Lara beach is located south of Antalya's downtown. It is most well-known for its pearly white sands and family-friendly facilities such as cafés and restaurants. Also, a variety of sports such as jet-ski and stand-up paddleboard rentals for those who wish to get out on the water. For those who prefer to lay under the sun, sun loungers and umbrellas can be easily rented for the day. Since this is where the majority of Antalya's beach resorts are located, Lara beach tends to get crowded during the summer months.
3. Aspendos
If you feel like beaches aren't intriguing but huge columns and stone walls are interesting, look no further than Aspendos. For the ones interested in historical ruins and towns, Aspendos is one of many historical places to visit in Antalya.
Aspendos is located roughly 47 kilometers east of Antalya. This ancient site is home to a Roman theater that is often regarded as the best preserved in the world. It is one of Turkey's most popular tourist destinations. Most of the remains that can be seen now were built between the 2nd and 3rd centuries. The time when this magnificent, historic town was at its peak. The theater has been totally restored and can accommodate 15,000 people. Much of the remainder of the site is still in ruins and is likely only of interest to the most sightseer.
4. Termessos
If you want to see more than Aspendos, one of the best places to visit in Antalya is undoubtedly Termossos. It is 34 kilometers northwest of Antalya. Aspendos gets all the fame and attention from tourists and residents however Termessos offers a great historical atmosphere as well. The warlike Pisidians zealously preserved their independence from the mountain eyrie of Termessos. Neither the Greeks nor the Romans were able to subdue them. This ancient city's well-preserved ruins are strewn around a rocky mountainside with breathtaking visuals of the surrounding countryside.
5. Manavgat Waterfall
If you are interested in seeing the beauty of nature and landscapes, Manavgat Waterfall is the place for you. Manavgat Waterfall will capture your heart with its beauty. It had to be on our list of places to visit in Antalya.
The Manavgat Waterfall on the Manavgat River is located 3 kilometers north of Manavgat, near the city of Side. It is best viewed from a high altitude. Its tremendous flow over a large region as it falls from a low height. The Manavgat Waterfalls' white, foamy water cascades down over the cliffs and creates beautiful imagery. You can capture the beautiful imagery of the waterfall and make your memories immortal. Also, shady tea gardens near the waterfalls provide a wonderful resting spot for visitors.
6. Karain Cave
Last but not least, in our list of places to visit in Antalya, we have Karain Cave. For the visitors who are done with the sun and wish to be away from it.
The Karain Cave, in Dösemalti, is 27 kilometers northwest of Antalya. It was home to prehistoric humans and has given discoveries from both the Lower and Middle Paleolithic periods. Bones and teeth from Neolithic man have been discovered in this area. Some of the artifacts are on display in the on-site museum, which is tiny but surprisingly thorough. The large, arching caves here offer easy caving and are highly popular with local families looking for a getaway from the city.
All in all, there are many beautiful places to visit in Antalya in our list. Many locations suit many of the visitors' interests. Whether to have a historic vacation or a relaxing day on the beach. While you are here, getting your treatment in Smile Team Turkey, you can take a vacation as well. You can have it all if you visit the places in our list of places to visit in Antalya.
You can read our previous post on https://smileteamturkey.com/blog/everything-you-wonder-about-rhinoplasty-surgery/