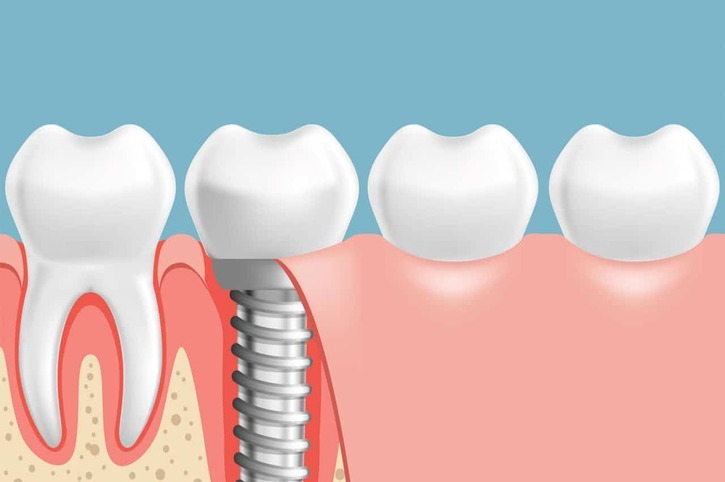 If you lost your teeth due to dental problems, it is possible to replace the missing teeth with artificial ones. You can wear dental implants or dentures to compensate for your loss. Sometimes choosing between dental implants and dentures can be difficult.
However, do not worry. This article contains everything you need to know about dental implants vs. dentures. However, keep in mind that the best answer to "Dental Implants vs. Dentures: What's Right for You?" can be different for every person. That is why you should ask a dentist about dental implants and dentures for the best treatment.
What are Dental Implants?
A dental implant is a permanent treatment for missing teeth. A dental implant improves a person's ability to eat or appearance by surgically placing artificial, custom-made teeth into the jaw. During this dental procedure, a titanium implant is surgically placed in the jawbone and serves as the root of a missing tooth.
What are Dentures?
Dentures are removable, and artificial teeth that are used for replacing missing teeth. There are two different types of dentures. The first one is called partial dentures. This type of denture is used when you miss a tooth or several teeth.
With special clasps, they are attached to your natural teeth. The other denture type is complete dentures. This type of denture replaces in the upper or lower teeth. After examining your teeth, the dentist can suggest the best denture type that is suitable for you.
Comparing Dental Implants and Dentures
Choosing between dental implants and dentures may not be easy. Here are some comparisons to discuss the topic of dental implants vs. dentures in detail.
Appearance and Aesthetics 
The first comparison in the "Dental Implants vs. Dentures: What's Right for You?" topic is appearance and aesthetics. Both dental implants and dentures help replace lost teeth and make your smile look more aesthetic. Both of them look similar to natural teeth.
Comfort and Fit 
Another comparison between dental implants vs dentures is comfort and fit. Since they are attached directly to your jawbone, dental implants offer a more secure and comfortable fit. In some cases, after the implant surgery, some people can experience discomfort, but when it is healed, this problem disappears. However, it might be uncomfortable to wear dentures for an extended period of time. Also, if dentures are not properly fitted, the person who wears them can experience issues.
Durability and Longevity
When comparing dental implants vs. dentures, they differ from each other in terms of durability and longevity. With proper care and maintenance, dental implants can last decades, while dentures' lifespan is less than a decade. That is why, for a lifelong solution, many people choose to get dental implants.
Maintenance and Care
Both dental implants and dentures require good care. To increase their lifespan, you need to take good care of them. For dentures, you need to remove them and rinse them after eating. Thus, you can clean up food debris. For dental implants, you need to brush and floss your teeth at least three times a day and rinse your mouth after eating.
Cost and Insurance Coverage
Cost and insurance coverage is another difference between dental implants and dentures discussed in "Dental Implants vs Dentures: What's Right for You?" topic. The cost of dental implants and dentures can be a matter of curiosity for people who want to get dental implants or dentures. However, the answer to this can vary from country to country. Some countries cover a certain number of dentures.
Advantages of Dental Implants 
Dental implants vs. dentures should also discuss the advantages of dental implants. Here are the top benefits of using these implants:
Natural Look and Feel 
The first advantage of dental implants is their natural look and feel. Since the root and tooth are replaced during the operation, dental implants look and feel like natural teeth. Also, dental implants are custom-made, which means that they look like your natural teeth. In addition, dental implants function like natural teeth. That is why, while eating and speaking, you can feel comfortable.
Improved Oral Health 
Firstly, when a tooth is lost, the stimulation that keeps the bone around and maintains the teeth in place is lost. This will cause the jawbone to begin to deteriorate. However, dental implants replace the missing tooth root in the jaw and stimulate the jawbone. In addition, replacing severely damaged teeth with dental implants keeps your other teeth, gums, and jaw healthy. In this way, dental implants help you maintain your oral health.
Long-term Solution 
Another advantage of dental implants is that they are a long-term solution. Dental implants can last for many years with good oral care. If you pay attention to your oral hygiene, you can increase the lifespan of your dental implants by decades.
Benefits of Dentures 
Dental implants vs. dentures should point to the benefits of dentures in detail. Here are the top benefits of using dentures:
Non-Invasive Procedure 
The procedure for dentures is non-invasive. No surgery is necessary for this treatment. Thus, there is no healing process for dentures. Also, it makes the procedure more comfortable for the patients.
Cost-Effective Solution 
If you want to replace the missing tooth with a more budget-friendly treatment, dentures are the best choice for you. Compared to other dental treatments, dentures is the least costly.
Suitable for Various Oral Health Conditions
Unlike dental implants, which are not suitable for everybody since a strong jawbone is required for implant surgery, dentures can be an option for many people. Besides, since dentures do not require surgery, they are more comfortable and suitable for people who cannot undergo surgery for oral health conditions.
Faster Treatment Process 
The type of dentures you get changes the duration of the treatment process, but the treatment process is fast in general. First, the dentist will examine your teeth, jaw, and mouth. Then, when custom-made dentures are ready, the fitting process starts. This process takes less time.
In addition, dentures do not require surgery, so there is no healing process for dentures.
You can reach our previous article from https://smileteamturkey.com/blog/the-importance-of-dental-health-for-senior-citizens/