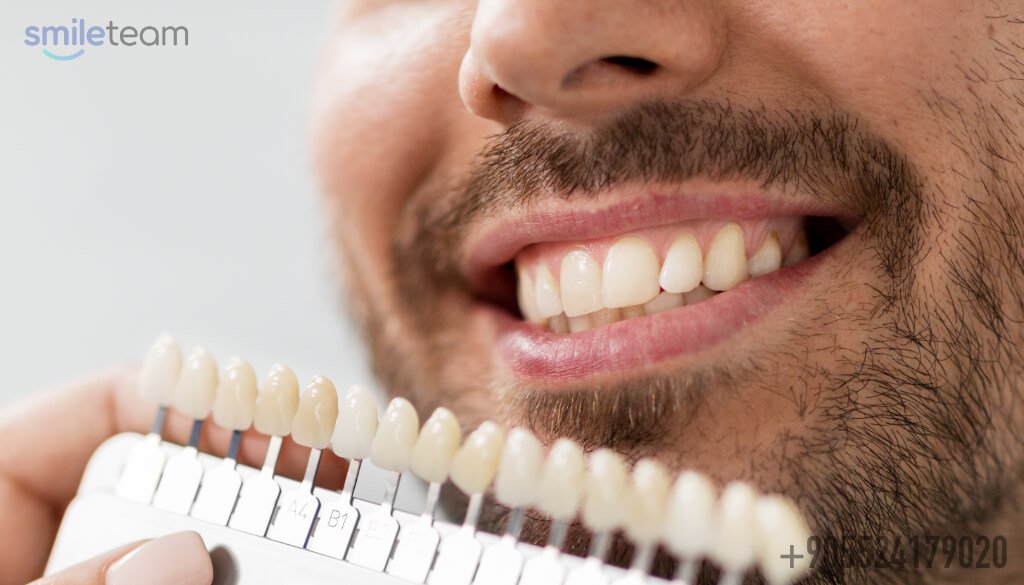 Veneers is one of the increasingly popular options for creating a brighter smile. Artificial crowns are placed on the teeth to have an even and beautiful smile line. Those who are looking to get dental veneers have a question mark in head about how much a full set of veneers cost. In this article, we will give you information about the full set of veneers cost.
While it seems that the question is pretty simple to answer, the truth is that we cannot say for sure. The number of veneers a patient would require depends on the smile line. A smile line is the number of teeth that are visible when a person smiles.
Every patient has a private smile and a different set of teeth. Unless we know how many teeth are visible from all sides, we cannot give patients a proper estimate. But there is nothing to be worried about. Patients can easily get veneers in Turkey by sending us the pictures of their smiles.
Take high-quality pictures of the smile in at least 5 angles so that we can see exactly how many teeth are visible. Send pictures of open mouth upper jaw, open mouth lower jaw, closed bite check, from the left and right (closed, individually). It would be better if patients can send us X-rays of their smiles.
Cost of Veneers in Turkey
For a detailed list of prices, please check our page with the dental treatment prices. As an example, we will show below how much a full set of veneers cost in Turkey.
Full set of veneers consists of around 20 units.
Zirconium Full Veneers price: £160 or €190 or $215. Full set zirconia crowns will be roughly £3200 or €3500 or $4300 before any discounts.
Laminate Veneers price: £215 or €255 or $290 per tooth.
Please check out our full set dental packages and deals page to see detailed information about packages and discounted prices.
Apart from that, when patients opt for the full set of veneers (for 20 teeth), we offer additional services such as dental treatments and transportation services from the airport to the hotel to our clinic. We also provide free accommodation to our patients for 7 nights (with breakfast included) in a single room of a decent nearby hotel.
The above-mentioned prices of teeth veneers in Turkey are payable by card. If patients are looking for cash payment options or group discount offers, please contact us using the form or send us a message on WhatsApp. We provide special discounts there is more than one person getting teeth veneers from us.
This is an advantageous option compared to the cost of veneers in the UK. There are no hidden charges. All treatments are included in the Cost of Veneers in Turkey.
Time Taken to Prepare Veneers
On the whole, it takes us around 5 days to complete the process. After the consultation, during which we use cad-cam and 3-D scan to get the exact measurements of your teeth, we will first create temporary teeth and start with the processing of creating veneers. It takes about 2 days to create the veneers in our fully-equipped lab. After that, we start with fitting the veneers and ensuring that the patients are fully comfortable with the set of veneers.
We recommend choosing e. max veneers or zirconium porcelain veneers. Zirconium veneers are preferred by patients who wish to have the perfect Hollywood style white and bright smile. Patients who have had root canal treatments or gaps cannot opt for e. max veneers. Zirconium veneers are the best option for them.
Hope this article will help you find out the full set of veneers costs. You can read our previous post on https://smileteamturkey.com/blog/