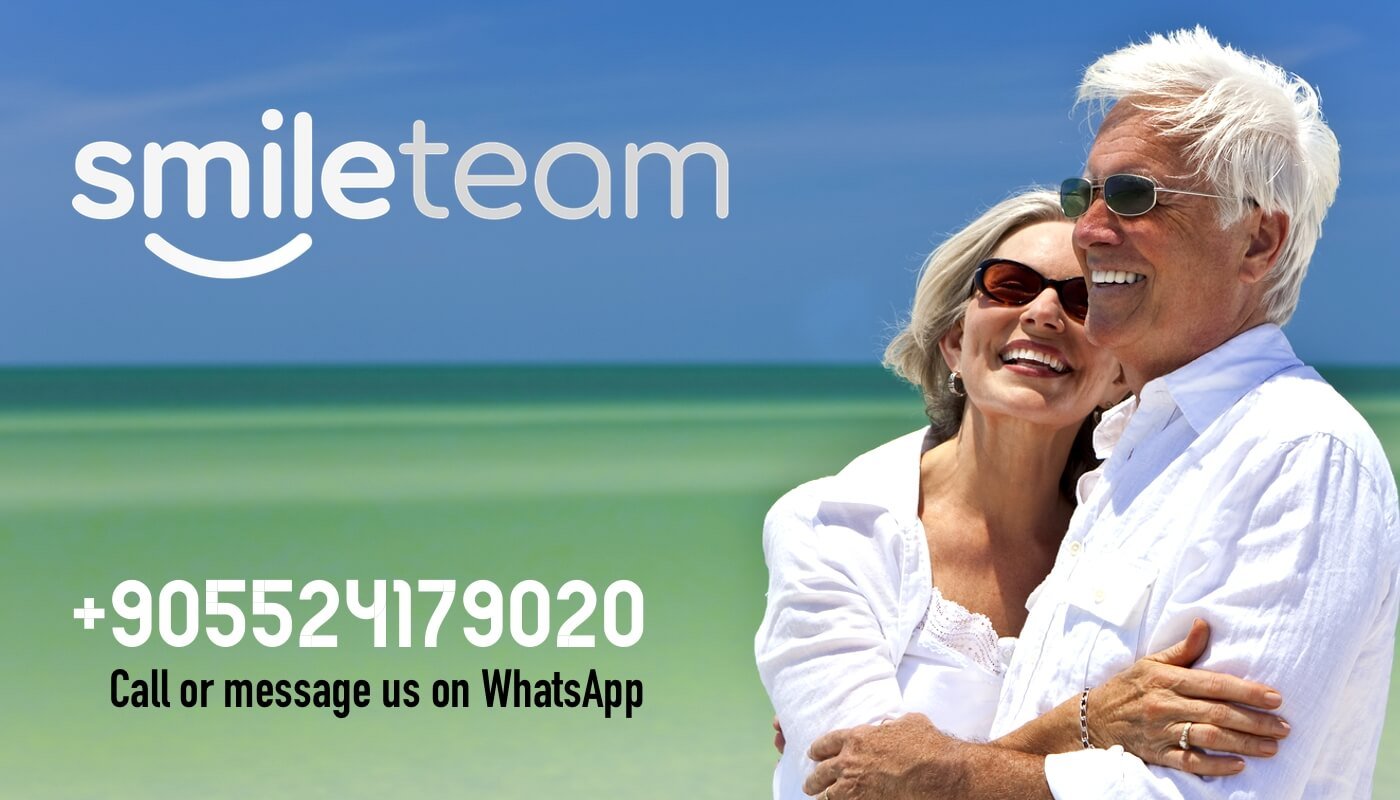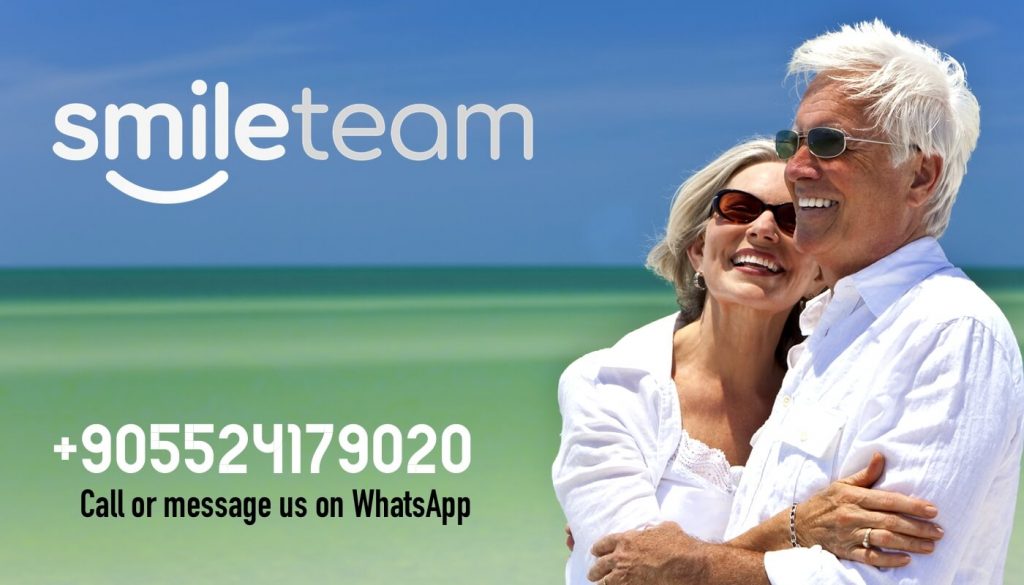 Making Smiles Beautiful For Everyone – Cosmetic Dentistry In Turkey
Smile Team Turkey has been bringing together numerous patients with dentists in Turkey for their dreams of having strong, white, and bright teeth with no dental problems. Our services are affordable and budget-friendly. Authorized by the Ministry of health, we have treated many patients who travel to Turkey for dental treatment. Over the years, we have worked with patients belonging to various industries, including some well-known names. Every patient of ours has only good things to say about Smile Team Turkey.
We provide an array of dental services ranging from straightening crowded teeth, correcting your smile, replace missing teeth, or closing a gap between two teeth. All it requires is the skill and the latest equipment, both of which we have in abundance. Smile Team Turkey is a reputed dental clinic in Antalya, Turkey. Check the ?Before & after? tab to see the results of our dental treatments.
As a licensed Dental Centre, we have permission to have an in-house laboratory which allows us to ensure that only the best quality products are using for the treatment. Our talented and experienced team works on creating the best quality dental replacements for the patients. We have highly skilled dentist in Turkey who work with us to perform smile correction surgeries, surgical extractions, dental implants, etc. Except for qualified and certified dental surgeons, other technicians do not perform surgeries.

Dental treatments have become expensive in many countries across the globe. The hidden costs are adding to the cost and making it impossible for a lot of people to get their dental problems treated. Even insurance doesn?t seem to be covering the cost of some of the treatments.
In such conditions, people prefer to live with dental problems rather than having to spend thousands of dollars and pounds. But it is a risky thing to do. Ignoring one?s health will only result in complicating the issues and even cause irreversible damage in some cases.
However, there is one solution that is becoming a blessing for many people. Have you heard about dental vacation or dental tourism?
If not, let us tell you just how advantageous and beneficial it is, not to mention the bonus of visiting a new destination and spending quality time by yourself or with your loved ones.
Find Expert Dentists in Turkey
Instead of trying to find a cheap dentist, contact us. We will help in planning the entire trip. From sourcing flight tickets to getting a hotel room and scheduling the dental treatment, Smile Team Turkey will take care of everything.
Our patients have various options when it comes to booking an appointment with us. They can either travel to Turkey, enjoy a holiday in our beautiful country, and schedule a session for treatment at our dental clinic or they can contact us first, book an appointment and then travel to Turkey. We are flexible and adjust our services based on the convenience of our patients.
It doesn?t matter if our patients haven?t traveled to Turkey prior to this. We have helped many patients plan their first trip to Turkey. They went back to their countries with a perfect smile and shining teeth. It is a part of our job, and we have been doing it with the utmost efficiency. Dentists in Turkey have proven to demonstrate high success rates and proudly serve international patients.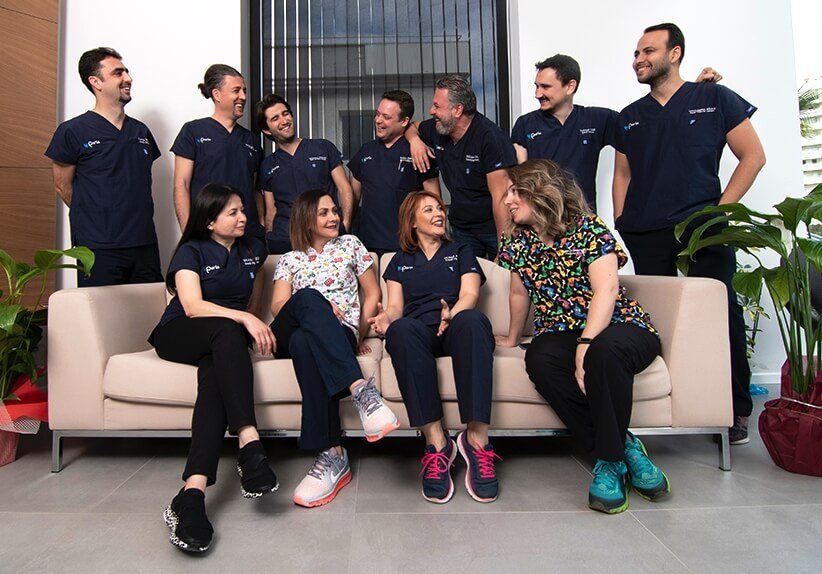 We make sure that the patient feels comfortable right from the moment they enter our dental center. Be it pleasing aesthetics, friendly technicians, refreshments specifically approved for dental patients, or the latest technology and equipment we use, everything in our dental center will make patients feel at ease.
Our dentists and representatives are fluent in English. If our patients which to converse in another language (s), we will offer free translation services by expert translators. We understand the importance of communication when it comes to explaining the dentist about the problem. We ensure that there will be no communication gap between the patient and the dentists in Turkey.
Message us on Facebook Messenger or WhatsApp. We will respond as soon as possible.
Visit Turkey for Dental Treatment
The term dental vacation doesn?t need any elaborate explanation. You visit another country to get your dental problems treated and enjoy your stay by visiting the famous local destinations. Most importantly, you do this for a price lesser than what it would cost you to get dental treatment in your country. Isn?t that a great alternative?
Dental Treatments has gained a lot of popularity over the years. Many dental clinics see international patients booking appointments and planning trips to the Turkey country for treatment. There are also many dental tourism companies that offer packages exclusively for such patients.
Of course, it is recommended to get in touch with a reputed dental clinic rather than a travel company. Most dental clinics such as SmileTeam, help patients in planning trips to Turkey. From booking tickets to providing accommodation and offering treatment, the clinics take care of everything.
There is no reason to be afraid of the treatment provided by Dentists in Turkey. Reputed dental clinics have highly experienced and licensed dentists and surgeons. They are in no way less qualified or capable compared to the dentists across the globe. There is enough proof that Turkey's dentists are one of the best in the world.
City of Antalya
It is better to choose a dental clinic Antalya when compared to clinics in other parts of the country. Antalya is a beautiful city with wonderful beaches and ancient architecture. It is also home to many well-known dental centers that offer specialized treatments for patients from various countries.
A fast-growing resort city in Turkey, Antalya is a perfect travel destination as well as a treatment center for dental problems. Whether you wish to visit the natural protected parks, waterfalls, lakes, forests, beaches, or historical buildings, you will find all of them scattered in Antalya. Go shopping, dining, or exploring while getting the best treatment from Dentists in Turkey, Antalya. Soak in the vibrant culture of the city and go back home with all your dental problems solved.
Cost-effective Dental Treatment
As mentioned above, the dental clinic offers services for half of what it costs in the UK. Depending on the patient and kind of treatment required, they may only have to spend 25% of the total cost of the same treatment in European countries. You don?t have to worry about hidden costs and additional charges when contacting the best dentists in Turkey.
Dental clinics also offer extra discounts for a group of patients who book appointments as a batch. If you and your friends are having dental problems, planning your dental vacation together might reduce the cost even further. Make use of the opportunity and get back your carefree smile.
You can read our previous post on https://smileteamturkey.com/blog/same-day-dental-implants-in-turkey/